Dr Vladislav Sandler Ph.D.
CHIEF EXECUTIVE OFFICER AND CO-FOUNDER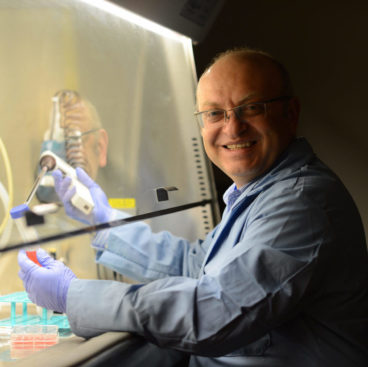 Biography
Dr Vladislav Sandler is the Co-Founder and CEO of Hemogenyx Pharmaceuticals and a Research Assistant Professor at the State University of New York (SUNY) Downstate. Dr Sandler is a widely published stem cell scientist with decades of experience in scientific research. In particular, Dr Sandler has extensive experience developing novel methods of direct reprogramming of somatic cells into functional and engraftable hematopoietic stem cells, as well as developing novel sources of pluri- and multi-potent cells.
Dr Sandler has conducted his research in Russia, Israel, Canada and the United States, including at Children's Hospital, Harvard Medical School, the Salk Institute for Biological Sciences, Harvard University and Albert Einstein College of Medicine, among others. He also led a team of scientists at Advanced Cell Technologies, Inc. and was most recently on the faculty of Weill Cornell Medical College. While at Cornell, Dr Sandler made the significant discovery that the cells that give rise to blood stem cells during mammalian development continue to exist after birth, and he developed the method of isolation of these cells from humans. As a result of this important work, Dr Sandler was awarded the inaugural Daedalus Fund Award for Innovation at Cornell. He went on to found Hemogenyx Pharmaceuticals in order to further pursue this significant scientific discovery and his dedication to the translation of science into clinical practice.
Dr Sandler has published numerous peer-reviewed papers and has received a number of awards and fellowships for his scientific research. Dr Sandler received his Ph.D. from the University of British Columbia. He is a member of the International Society for Stem Cell Research.